Flexible Dish Brush and Sponge Holder
Flexible storage for your washing-up equipment
You must log in to save favourites
Easy to shape, two different uses
Storage for washing-up items
Soap dispenser base
This flexible holder for your dish brush and sponge saves space in the kitchen sink and presents a clever way of storing your washing-up equipment. The bendable holder can either be hung on the edge of the sink or over the divider in a kitchen double-sink.
If you place one end of the holder flat on the edge of the sink, it works as a clever base for your soap dispenser or washing-up bottle. That way, any soap or water that drips onto the base will trickle back into the sink thanks to the integrated spout. The other end hangs down into the sink and provides a practical space to store your washing-up sponge.
The other option is to hang the holder over the divider between the two kitchen sinks so that you have one storage space on either side. You can put your washing-up sponge on one side and hang your dish brush on the other. The holder can also be used to store a scrubbing cloth or a dishcloth.
The holder is moulded over a flexible metal frame so that you can bend and adapt it to your exact needs. The rubber-like material offers high friction and ensures that the holder stays put.
The flexible dish brush and sponge holder is easy to clean with a bit of washing-up liquid under running water.
Dimensions: 20 cm x 14 cm x 1 cm
Show all reviews
Show less reviews
Other customers also bought:
You recently viewed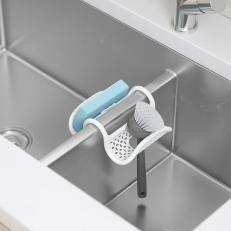 Flexible storage for your washing-up equipment