Walnut knee tray with anti-slip function
Luxurious knee tray with an anti-slip surface
You must log in to save favourites
A tray in walnut with an anti-slip surface
Cushion made from 100% cotton
Comes in two sizes
Enjoy an amazing breakfast in bed or use your laptop on this luxurious tray in walnut! The tray is fixed on a grey cushion made of 100% cotton, and with the anti-slip surface, the items you place on the tray won't slip away.
The tray is perfect to place in your lap when sitting on the couch or the bed. Plates, small plates, drinking glasses and xx stand steadily on the knee tray's anti-slip surface to make sure things on the tray don't slip.
The tray comes in two sizes, and on the large tray, you can even fit a laptop. 
Small:
Weight: 0.6 kg
Measurements: 43 cm x 23 cm x 6.5 cm
Large:
Measurements: 46 cm x 38 cm x 6.5 cm
Weight: 1.2 kg
Show all reviews
Show less reviews
Other customers also bought:
You recently viewed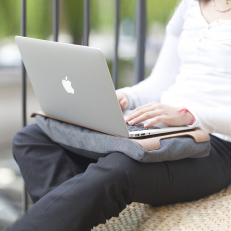 Luxurious knee tray with an anti-slip surface