Protects credit cards with RFID chips
Sends out an interference signal when attacked
Creates a 40 mm field of protection around the cards


New credit cards are specially adapted for contactless payments, making them practical and convenient to use. But such a feature also comes with a certain security risk as both personal information and card data are stored in the credit cards' built-in microchip. The card data can be read from a distance using RFID reader ? usually such technology is fine, but it can also be used by people with more malicious intentions. Stealing data like this is referred to as skimming.

This RFID protector is the size of a regular credit card and is placed in your wallet along with your other cards. If you are subjected to a skimming attempt, the protection card is activated by the incoming signal and sends out an interference signal that blocks out all attempts to read your cards.

The card creates a 40 mm field of protection around your cards and keeps your credit card and personal information protected. This device is perfect for crowded urban environments, busy roads, teeming airports or in local traffic with a lot of congestion and where large groups are gathered.

The card requires no batteries. It can fit in nearly any wallet and has a 5-year warranty.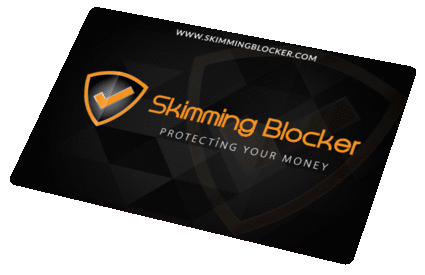 About RFID
RFID ? short for Radio-Frequency Identification ? is a way to store

and receive information from a

microchip without contact.

High Frequency (HF) RFID sends and receives information at 13.56 MHz, the same frequency used in passports, national ID cards and new bank cards which have been adapted for contactless payments.

Skimming these cards has become more commonplace and technology has progressed to a point where it is simpler than ever for thieves to access the stored information. With a smartphone or other portable reading device, the thief can access personal information, credit card numbers and other information stored on the chip.