Dog Hygiene Protection 15-pack
Effective single-usage protection for your bitch in heat
You must log in to save favourites
Innovator:
Louise Folin, Ylva Folin och Jennifer Folin
Effective protection
Soft and stretchy material
Easy to use

The Nikki Pants dog hygiene pants are a comfortable and hygienic one-time protection for bitches in heat. The hygiene protection is soft and comfortable for the dog to use and easy to change in need.

When your bitch is in heat it's good to have protection ready in the car, the office or when visiting friends. These one-time use protections are fresh and easy to switch. The hygiene protection pant and absorbent are fastened together, so instead of washing after usage, just throw it all away.

The protection is very easy to put on your dog. Put both back legs through the holes and secure protections over the back. Adjust how tightly it sits with the Velcro. The soft material is stretchy to avoid the dog feeling uncomfortable.

Find the right size by measuring your bitch around the waist (waistline) and from the back to the stomach (sweep). See picture or size chart down below.

The most important measurement is from the back down under the stomach (sweep). Go preferably after this measurement when choosing size so that the protections stays on good. The waist of the protection is very flexible and can be attach anywhere on the back.

Size chart in cm:
XXS: waist 25, sweep 24
XS: waist 30, sweep 30
S: waist 35, sweep 34
M: waist 40, sweep 38
L: waist 45, sweep 42

The Dog Hygiene Protections have been rewarded with Södermanlands SKAPA innovation prize 2018. They are manufactured by partially recycled material that is GRS-certified (Global Recycle Standard).
Dispose of as household rubbish.

Show all reviews
Show less reviews
Other customers also bought:
You recently viewed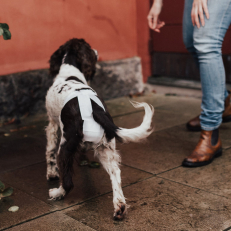 Effective single-usage protection for your bitch in heat