You may also like:

From € 6.50

Mixing Container for Nut- & Oat milk
Make your own soy, almond, and oat milk
You must log in to save favourites
Easy to use
Make your own favourite mix
Two containers, a filter and lid
This clever mixing container helps you make your own nut or oat milk. Drink it as-is or add to your coffee. Veggie drinks contain loads of nutritional and healthy ingredients and are perfect for vegans or anyone who avoids regular milk due to gluten or lactose intolerance.
The set includes two 1-litre containers, a filter and a lid, which can also be used as a coaster to keep the container stable. A hand blender is not included, but the container can be combined with any regular hand blender on the market.
The mixing container can be used to blend drinks from all kinds of grain, rice, nuts, and seeds, and with just a little water the drinks are tasty enough to be drunk on their own. Try making your own milk from oats, hazelnuts, almonds, walnuts, soybeans, or experiment with other ingredients to find your own favourite. It is healthy, and you'll know exactly what it contains.
You can also create an endless amount of different flavours using ingredients as raisins, dried apricots, dates, apples, coconut, citrus fruits or spices such as cocoa, cardamom or coffee. You are sure to find plenty of new and delicious combinations.
Soak the dry ingredients for about 12 hours. Top tip: Soak overnight so that you can mix your milk in time for your morning coffee. Use a hand blender at the lowest speed to mix the ingredients for two to three minutes. Allow the milk to stand for a couple of minutes so that the solid particles sink to the bottom and then carefully press the filter down.
In a couple of minutes your milk is ready to be poured into the second container and can be served right away. The finished milk can be kept in the fridge for up to three days.
Don't throw away the leftover pulp. It can be used to make your own granola or home-made protein bars. A booklet with a recipe for tasty home-made protein bars and other ideas is included in the pack.
All parts are dishwasher safe and can withstand temperatures from -15ºC to +80ºC.
Weight 0.5 kg
Material: PP, SAN 100% platinum silicone, stainless steel
Length 12 cm, width 11 cm, height 26 cm
Hand blender is not included.
Show all reviews
Show less reviews
Other customers also bought:
You recently viewed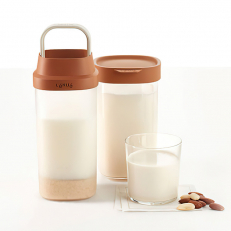 Make your own soy, almond, and oat milk