accessories for:

€ 39.50
Looftlighter X - Cordless Barbecue and Firelighter
Use a hot-air lighter to light the barbecue without lighter fluid
You must log in to save favourites
Hot-air lighter
Powerful rechargeable battery
Lights barbecues and fires
Looftlighter X is the world's first battery-powered barbecue lighter to use hot air to start a fire. Looftlighter X gives you the freedom of being cordless, yet lighting the barbecue or fire in a safe and environmentally friendly way.
Looftlighter X works just as well to light a fire as to light a barbecue. It blows out extremely hot air that will get coal, briquettes and firewood to start glowing in no time. Your barbecue, fire, smoker, campfire or pizza oven will be ready to go in minutes.
Looftlighter X is a safer and more environmentally friendly alternative to matches and lighter fluid. Looftlighter X does not generate any CO2 emissions, gives you better control when lighting the barbecue, and eliminates the chemical flavour from the lighter fluid.
Looftlighter X also comes with a practical charging stand. When you are not using the Looftlighter, dock it in the stand to charge the battery. The rechargeable battery is fully loaded in two hours and a single charge is enough to light a barbecue about ten times.
Looftlighter uses a unique technology that combines heat and oxygen supply to quickly light your barbecue. The air shot out of the Looftlighter reaches a temperature of up to 650 °C, which is enough for regular charcoal to start glowing after just 60 seconds. Briquettes and dense firewood may take a little longer, but your barbecue or fire will be lit within mere minutes.
How to use your Looftlighter X

Press the
Power
button below the handle for two seconds. Your Looftlighter X is now activated and ready to use. If you don't turn on the hot air, the Looftlighter will automatically turn itself off in ten seconds.
Press the
Burn
button to start the automatic heat programme. The heat turns on and the fan will gradually speed up. This mode provides an optimal amount of heat and oxygen to get your fire started quickly.
Once ignited, you can use the
Boost
button to give it an extra boost. The boost function turns off the heat and turns up the fan to the maximum. This provides the fire with plenty of oxygen while also saving battery power.
You can switch between the Burn and Boost functions whenever you want.
Top tip!
Aim your Looftlighter between two smaller pieces of coal rather than at one large one, as this will ensure better air supply. The small pieces will light faster and then spread the fire to the larger pieces.
The trick is to continue aiming the Looftlighter at the same spot even once the small pieces start burning. Just move the Looftlighter slightly backwards so that it is not in the flames. The heat shield is made of aluminium and will start melting if it is held right in the flames. Another advantage of moving the Looftlighter back somewhat is that the fire will spread faster.
It is a good idea to wipe the Looftlighter with a damp cloth every now and then. Do not use any cleaning products on it. The Looftlighter should be stored indoors in a dry place.
Note! The heat shield gets very hot when the Looftlighter X is in use, but it cools down quickly again once turned off.
Included in the pack
Looftlighter X: 43 cm x 10 cm x 10 cm.
Weight: 1.3 kilos including the battery pack
36V Li-Ion battery pack: 2000 mAh, 72 Wh
Charging station with an 130 cm long power cord.
Material: Plastic and aluminium
2 year warranty
Certifications: CE, ETL, GS, TuV.
Show all reviews
Show less reviews
Other customers also bought:
You recently viewed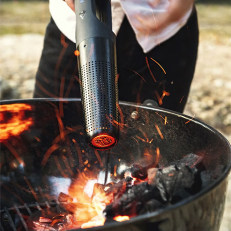 Use a hot-air lighter to light the barbecue without lighter fluid