Repairs a broken zipper
Good to have at home
Choose from several multipacks

ZlideOn is a Swedish invention that replaces the existing slider with which you pull your zip closed, making your broken zipper work again. With a ZlideOn multipack in your DIY box, you can repair a broken zipper as soon as it breaks and there are several different multipacks to choose from.

To know which ZlideOn will fit your zipper, there are a few things you need to find out. You'll need to know what material your zipper is made of. You'll also need to measure the width of the closed zipper, as well as how thick the zipper's "teeth" are.

Find out the material of the zipper
There are four types of zippers. A = Metal/plastic, B = Plastic, C = Coil (narrow) and C2 = Waterproof Coil (waterproof). Use the pictures to help you find out which type of zipper your garment has.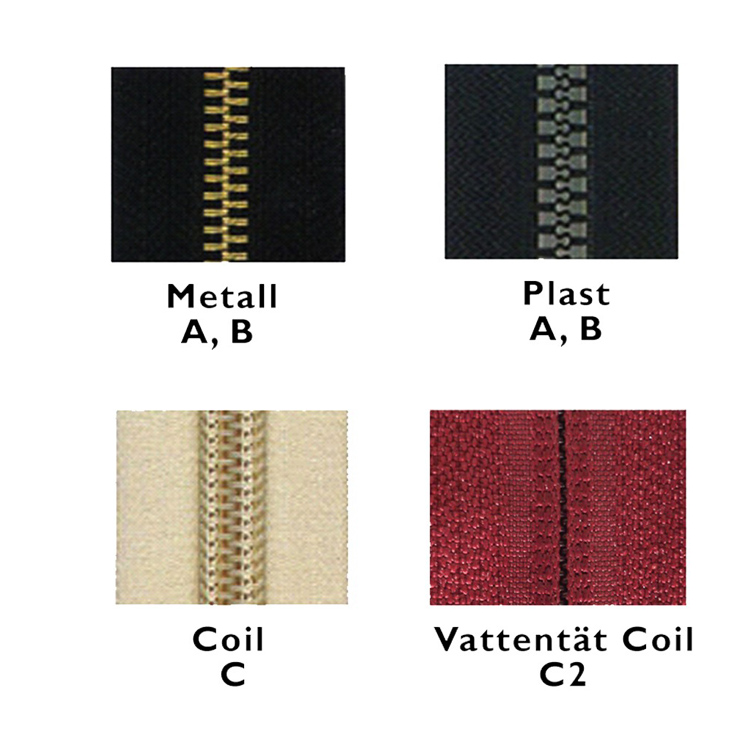 Measure the zipper
Once you know what material the zipper is made of, you'll need to measure your zipper. Measure the width of the closed zipper. Then measure how thick the zipper teeth are. Click here for PDF: Find the right size.

Size chart
Once you have the measurements and know what material your zipper is made of, use the size chart to find the right size.

Explanation of sizes
There are many different sizes, from size 3 to size 10. Size 3 is for really small zippers, e.g. pillowcases and wallets. Size 10 is for really wide zippers, e.g. tents.

The most common sizes are sizes 5 and 8. Size 5 fits most hoodies, summer jackets and backpacks. Size 8 fits slightly larger zippers, e.g. winter jackets and suitcases with wide zippers.

Multipack
There are several multipacks to choose from. Below you will find a description of the various multipacks.

3-pack Metal / Plastic / Narrow (coil)
5A: For normal-sized metal zippers on jackets and hoodies
5B: for normal-sized plastic zippers on jackets, hoodies
5C: for normal-sized coil zippers on e.g. windbreakers

5-pack Narrow (coil) / Waterproof (waterproof coil)
3CB: for narrow coil zippers on cushion covers, pockets
45C: For slightly narrower coil zippers on jackets
5C: for normal-sized coil zippers on e.g. windbreakers
5C2: for normal-sized

waterproof

coil zippers on e.g. wind jackets
8C: for wider coil zippers on winter jackets, suitcases and cases

5-pack Metal/Plastic
5A: For normal-sized metal zippers on jackets and hoodies
8A: for wider metal zippers on winter jackets
3B: for narrow plastic zippers on pockets
5B: for normal-sized plastic zippers on jackets and hoodies
8B: for wider plastic zippers on winter jackets

7-pack Narrow (coil) / Waterproof (waterproof coil) / Metal / Plastic
3CB: for narrow coil zippers on cushion covers, pockets
5C: for normal-sized coil zippers on e.g. windbreakers
5C2: for normal-sized waterproof coil zippers on e.g. wind jackets
5A: For normal-sized metal zippers on jackets and hoodies
3B: for narrower plastic zippers on pockets
5B: for normal-sized plastic zippers on jackets, hoodies
8B: for wider plastic zippers on winter jackets

Also available in single packaging
ZlideOn can also be purchased in a 1-pack. Here you buy a 1-pack of ZlideOn zipper sliders->