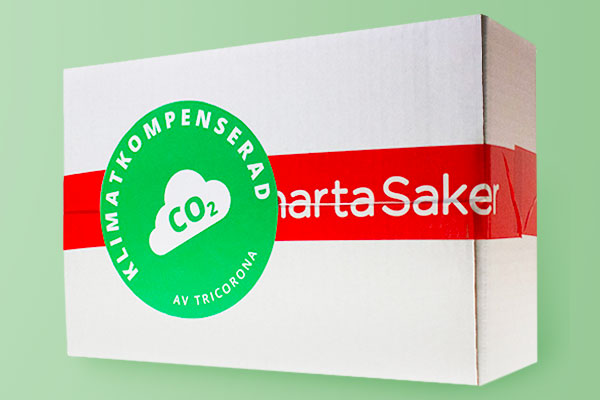 Our climate-smart deliveries
It should go without saying that we do everything we can to make for a greener world of e-commerce. Today we are engaged in all sorts of practices for furthering sustainability, including climate-compensated shipping, using packaging made from recycled materials, and utilizing renewable energy generated from solar cells.

Compensating for CO2 emissions
Although e-commerce offers a lot of sustainability advantages over traditional businesses, each delivery has a certain impact on the climate from the CO2 emissions it produces. We make sure to contribute to sustainability by offsetting our carbon footprint through climate-compensated shipping on all of the packages we send out. We see this as an invaluable investment in sustainability that doesn't bring any extra cost for our customers.
Climate compensation means that we financially support projects that lead to a reduction in CO2 emissions equivalent to what is brought on by our deliveries — and we usually try to offset even more than we produce.

1.9 million trees
With the help of the environmental consultancy firm Tricorona Climate Partner, we've worked diligently to calculate our CO2 emissions. Using the figures from the previous years, the firm has been able to calculate the average CO2 emissions caused by each delivery. According to this template, we continuously compensate our shipping operations throughout the course of the year. Every year a new calculation is made to make sure we stay up to date in our environmental efforts.
We climate-compensate by planting trees in Panama through the Gold Standard-certified Tropical Mix project. In total, more than 1.9 million trees have been planted in the course of this project. Besides the ecological advantages, there are social advantages to tree planting as well. Sections of the tree planting area are used for sustainable cacao production, which contributes to the local economy.

Green packaging
The packaging we use for our deliveries has all been made from FSC-certified materials and consist of 60–100 percent recycled material depending on its size. The Forest Stewardship Council (FSC) is an independent, international organization that works to create environmentally-friendly forestry worldwide.
Each order is packed in a box that protects the product but does not contain unnecessary air or material. Furthermore, all of the boxes are methodically stacked together to ensure that we achieve maximally efficient transportation.
If additional protection is needed to guard against pressure and jostling, the shipping containers are filled with inflatable plastic packaging. This plastic packaging consists of 70 percent of recycled material to help minimize our plastic use. The plastic weighs almost nothing and is filled with air only when it is actually in use. We make every effort to save on transportation and weight to ensure our environmental footprint is no larger than it absolutely needs to be.
Plus, the material is completely recyclable. Once you receive the package, simply drain the air and put the plastic in the recycling, ensuring that the material can be used once again,

Solar, wind, and geothermal
Four miles from Uppsala lies Morgongåva, where we have our large transport centre. It is here that all of our smart things start before they get repackaged as shipments that are sent out to our valued customers. On the roof of the facility is Sweden's largest solar cell system, which generates a great deal of our electricity and power. Even the temperature controls are climate-friendly, as the large space is heated and cooled via geothermal energy, an eminently energy-smart solution.
Our Stockholm-based store and offices utilize renewable energy generated from a wind turbine in which we own shares as a way to support this renewable industry.

Satisfied but never finished
In the recent years we have proudly continued our efforts to make ourselves a more sustainable e-commerce company. We're very pleased with the work we've done, but we realize that this project is never done — we look forward to continuing to find new climate-friendly solutions, continuing to invest in sustainable technologies, and working for the future as we continue to offer you as many climate-smart things as possible.


We climate-compensate by planting trees in Panama through the Gold Standard-certified Tropical Mix project. Besides the ecological advantages, there are social advantages to tree planting as well.