Magnetic mount for smoke detectors
For when you cannot, or don't want to, drill into the ceiling
You must log in to save favourites
Easily attach and remove your smoke detector
Mounted with strong double-sided 3M Tape
For smoke detectors with 6 cm in diameter or bigger

The magnetic mount from Housegard is attached with a strong double-sided tape that makes installation easy and removes the need for any drilling. Suitable for smoke detectors of standard size.


How to install the mount:
Before installation, make sure that the ceiling is flat, smooth and free from dust and dirt.
Remove the protective layer from one of the magnetic mounts and stick it to the backside of your smoke detector. Attach the other magnetic mount to the ceiling in the preferred spot and keep a light pressure on it for about ten seconds to make it stick properly. Done! 

The magnetic mount makes it easy to remove the smoke detector when you want to clean it or change batteries. Just remember that once the mounts have been attached, they can't be moved again.

Specifications
6 cm in diameter 
Height: 0,6 cm
Type of tape: 3M
Show all reviews
Show less reviews
Other customers also bought:
You recently viewed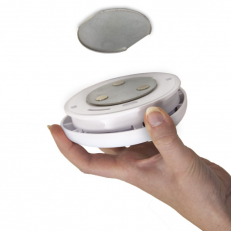 For when you cannot, or don't want to, drill into the ceiling