Solar cell flower on a stick, Daisy
Decorative garden light that is charged by the sun
You must log in to save favourites
Beautiful in the garden and on your lawn
Shines with a cosy warm white glow
Charges in the sun, lights up in the dark
Daisy is a solar cell flower on a stick that looks just like a Dasiy and is perfect to stick into the ground next to your flourishing flowerbeds in the garden. The battery charges with the help of the sun during the day, and when the night falls the small LED-diodes in the flower lights up automatically with a warm white glow.
The solar cell flower is attached to a 77 cm long pole that is delivered in two pieces. Screw the pieces of the pole together and push it down into the ground or your flowerbed. The pole is split up into two legs by the foot which helps the Daisy to stand firmly in place.


The small solar cell panel is located at the middle of the pole and charges the battery during the day. The built-in dusk sensor lights the flower automatically at night when darkness comes. A fully charged battery gives approx. 6 hours of light. Note! Make sure that the solar cell panel is placed in direct sunlight and not in the shade of plants or trees.


The flower should be placed where it can give the panel the maximum amount of sun during the day. After that, give the battery a good start by turning on the solar cell panel during the day and shutting it off during the night. Repeat until the battery has been charged for 36 hours in the sun. Following that, you can always have the panel turned ON and the light will take care of itself.


The solar cell lighting is waterproof and able to be kept outside, even if it rains. However, you should take it inside during the winter, when the temperature grows cold, to charge the battery in a charger every third month. That way, you will keep the battery fresh for the next season.


Specifications
Height: 77 cm flower + 8 cm double poles
Diameter: 15 cm
Weight: 270 g
Measurements panel: 9 cm x 7 cm x 2 cm
Measurements solar cell panel: 4 cm x 4 cm
Light source: 10 pcs LED-diodes
Battery: 1 pc rechargeable AA NiMH (included)
Waterproof: IP44
Show all reviews
Show less reviews
Other customers also bought:
You recently viewed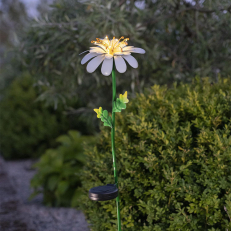 Decorative garden light that is charged by the sun