Tearing-pipe holder for kitchen paper
Hide kitchen paper rolls inside a cupboard
You must log in to save favourites
Innovator:
Barbro Holmström
Hide your paper rolls in the kitchen
Tear off the paper with the help of the jagged edges
Easy installation in a kitchen cupboard

This tearing-pipe is a practical holder for your kitchen paper that lets you hide your rolls inside your cupboard! The paper pulls out through the pipe and can be torn with the help of the jagged edges!

This tearing-pipe holds all types of kitchen paper that roll from the inside out and is perfect to install in the kitchen, bathroom, boat or trailer. This tearing-pipe is very easy to install; the only thing you need is a 40 mm centre drill.

Measure where you want the roll to sit and drill a 40 mm hole in the lowest shelf in the cupboard. Push the pipe through the hole, pull the paper through the pipe and put the roll over top of both. You can now easily pull out the paper as it is hidden within the cupboard!

This kitchen paper holding tearing-pipe is a Swedish innovation produced by Barbro Holmström.


Show all reviews
Show less reviews
Other customers also bought:
You recently viewed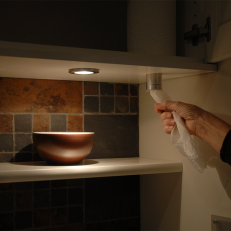 Hide kitchen paper rolls inside a cupboard