Cat litter shovel
No need to spill anything between the cat litter tray and the bin
You must log in to save favourites
Innovator:
Lise-Lotte Norlund
Sifts off the cat litter
Adjustable grille holds the contents
Swedish Made
It's usually messy when you empty the cat litter tray box and cat litter falls out on to the floor from the cat litter shovel. This Swedish-made cat shovel can be closed when you've used it in the tray on the way to the bin. No more mess on the floor or by the cat litter tray!
The cat litter tray features an innovative, adjustable grille that filters the cat litter and catches the mess. You can adjust the size of the holes. This is a great feature as you can adjust the size of the filter depending on the size of the mess. Push the grille to the front after cleaning to close the holes and make sure all the mess is kept in the shovel.
The cat litter shovel is made of ABS plastic and can be washed in the dishwasher. You can remove the grille for more effective cleaning.
The cat shovel measures 26.5 cm x 10 cm x 4 cm and the 35 holes measure 0.7 cm x 1.3 cm.
Show all reviews
Show less reviews
Other customers also bought:
You recently viewed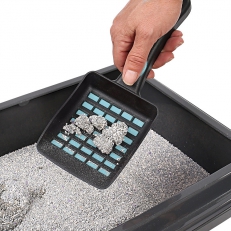 No need to spill anything between the cat litter tray and the bin