Signal blocking iPad case with lock
Take a pause from surfing and shows!
You must log in to save favourites
Innovator:
Stephanie Spindler Jonsson
Take a pause from surfing and shows!
Smart magnetic lock
Made of vegan leather

This signal blocking iPad case from the Swedish company MyPauze is a lockable cover to keep your tablet in when you want to take a digital pause. This case blocks SMS,
calls, WiFi, Bluetooth, and GPS signals and gives you the ability to focus on the now instead of being disturbed constantly by vibrations and notification rings.
This signal blocking iPad case is a good tool to limit screen-time for yourself or your children. When the tablet is locked inside the signal blocking case all signals are hindered and it's easier to focus on your studies, work, or homework.
All notifications arrive when you remove the tablet from the case. The clock and alarm functions still work as normal when sitting in the case.
Sometimes it's not enough to just put away your tablet. The desire to watch the next episode, surf or play can tempt sneaky children to grab the tablet even once you put it away. With this built-in magnet lock the case locks when you close it and prevents a clever child from getting at the iPad.
The magnet lock is easily opened with the included magnetic key. Place the key against the round button on the case lock and it opens.
This signal blocking case is ca 31 cm x 21.5 cm on the inside which means it fits tablet with up to a 12.9 inch screen.
This iPadcase is made of exclusively vegan leather and comes in black, or pink with a crocodile inspired pattern.
MyPauze
Stephanie Spindler Jonsson is an entrepreneur and inventor from Ämhult and founded the Swedish company MyPauze. We spend, on average, 3 hours a day in front of the screen and when it runs the risk of taking our focus away from family, relaxation, reflection, and time for real relationship conversations she realized that there was a need for a tool to regulate daily routines.
This iPad case from MyPauze helps you create a sustainable and healthy digital lifestyle, and lets you avoid being online and available 24 hours a day. The digital resources we have are fantastic, but, as with everything else, we must find a balance to be able to live in the present.
Included
Lockable signal blocking iPad case
Magnetic key
Material: Vegan, phthalate free PU-leather
Weight: 180 gram
Blocks: SMS, calls, WiFi, Bluetooth, GPS, and RFID.
Outer measurements: 31.5 cm x 24 cm x 2 cm
Inner measurements: 31 cm x 21. cm
Magnetic key measurements: 9 cm x 9 cm x 1.5 cm
Show all reviews
Show less reviews
Innovator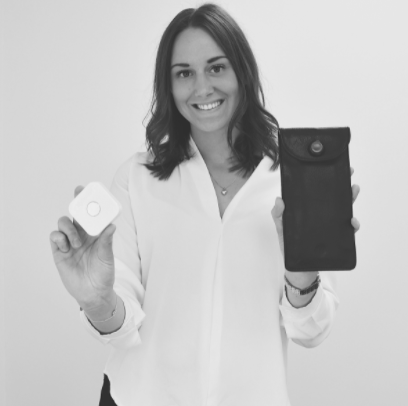 Stephanie is an entrepreneur from Älmhult, Småland and starts her company MyPauze in the year of 2019. But it all starts before that when she publishes an article in the Facebook group Hejalivet. In her article she shares her experiences about her mobile usage and how a normal day in her life looks like. Her story gets noticed, and many people can relate to it as they are experiencing the same problem. Stephanie realises that she is not alone, and that this is a societal problem that most of us are struggling with. 
–I was tired of my own scrolling. The mobile is with me everywhere. The bathroom, the couch, the bed. Always within reach.  
Read more >>
Other customers also bought:
You recently viewed