Solar Cell Path Light, Filippa 50 cm
Casts a cosy light on your path
You must log in to save favourites
Charges during the day, turns on at dusk
Easy to stick into the ground
Cosy warm white light
This solar cell path light casts a cosy warm white light and turns on automatically at dusk. The 50 centimetre high light will look great placed along your garden path and it is incredibly easy to stick it into the lawn or flowerbed.
The path light has a built-in light sensor that turns the light on as it starts to get dark. Your garden path is lit up with a cosy light that will shine for about five hours on a fully charged battery.
The large solar panel on the top of the light charges the built-in battery during the day. Make sure the path light has access to direct sunlight during the day and is not shielded by a large tree or bush.
Note! Before you stick the path light into the ground, open the battery flap and remove the two small pieces of plastic covering the battery.  Let the battery charge for a total of about 36 hours before using the light for the first time to help the battery reach its maximum effect.
The path light is made of aluminium, steel and glass and the stake is made of plastic.
Height: 50 cm
Diameter: 17 cm
Stake diameter: 2.5 cm
Colour: Graphite-grey
Number of LED lights: 1
Brightness: 10 lumen
Waterproof: IP44
1 AA Ni-MH battery is included: 1.2 V 800 mAh
Top tip! Check out our 60 cm path light as well->
Solar Cell Path Light 60 cm
Show all reviews
Show less reviews
Other customers also bought:
You recently viewed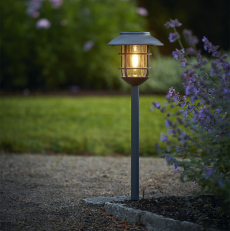 Casts a cosy light on your path