Indicators and programmable lighting
Automatic brake lights
MIPS protection system

The Lumos Matrix helmet is a unique helmet with lights on the back and front that is perfect for those who cycle, skate or ride an electric scooter. The helmet has a strong white light on the front and a large, programmable LED panel on the back that makes you visible in traffic.

The LED panel on the back can show many different patterns that make you stand out properly. In addition to fun patterns and programmable text, the helmet also has automatic brake lighting and the ability to show turn signals that make it easier for other road users to anticipate your movements in traffic.

Show which way you're turning turn with the remote control
With the small remote control, you can show which direction you're turning with luminous arrows on the back of the helmet. The remote control is attached to the handlebars with the bracket included. Press the button in the direction you intend to turn and the large LED display at the back of the helmet will show your intended direction to the road users behind you.

If you have an Apple Watch, you can also trigger the turn signals with hand movements.

Automatic brake lighting
The helmet has built-in sensors that detect if you need to brake suddenly. In the event of sudden braking, automatic brake lights illuminate on the LED display and clearly show the driver behind that you are braking hard.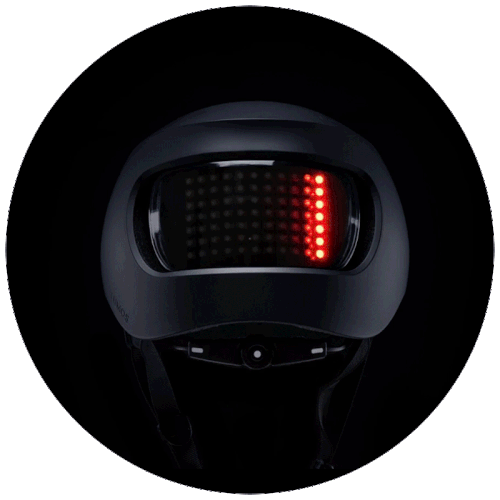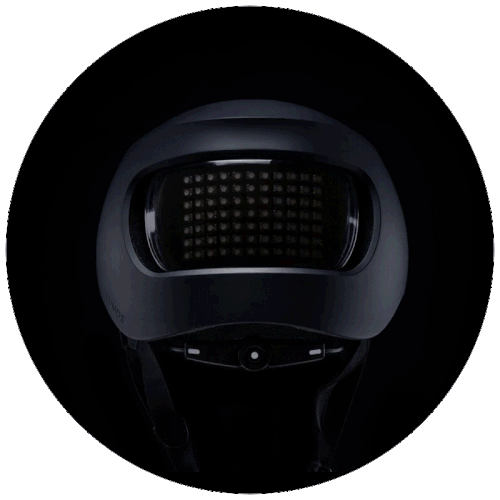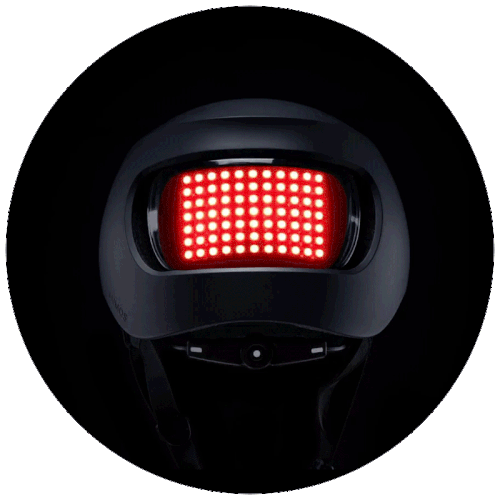 Protected electronics
All electronics in the helmet are well protected, and you can of course also use the helmet when it's raining outside.

How do I know if the helmet fits?
Lumos Matrix fits heads with a circumference of 56 cm to 61 cm. With the knob on the back of the helmet, you can adjust the circumference so that the helmet fits well and sits snugly.

You also get two sets of padding in different thicknesses. As all heads look different, you can try mixing thick and thin padding to achieve a perfect fit around the head.

MIPS protection system
Lumos Matrix has an integrated Swedish-developed protection system, called MIPS. MIPS provides additional protection in the event of an angled or rotating collision. All MIPS helmets are tested and certified to withstand a collision up to 6.2 meters per second (just over 20 km/h). MIPS is an abbreviation for "Multi-directional Impact Protection System".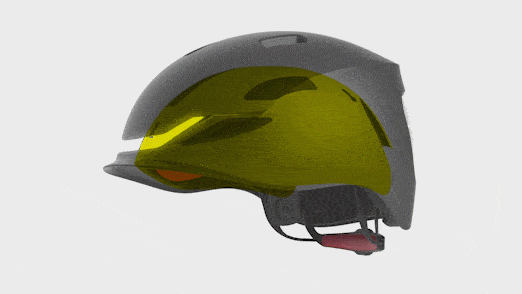 Download the app and install more settings
With the Lumos Companion app, you can change and program the light, change settings, check battery status, see your activity and sync with Strava and Apple Health.

Switch on and off
You can switch on the helmet by briefly pressing the ON button located on the helmet's left buckle. You should hear and feel a small "Click" when you press the button. To switch off the helmet, press and hold the same button.

Pair the helmet with a mobile and remote control
By holding down the ON button when you start the helmet, the helmet will go into pairing mode. This means that you can pair the helmet with a new phone or remote control. If you have already paired the helmet with your phone and remote control, do not start the helmet in pairing mode.

Battery life
The battery lasts on average about 4 hours in non-flashing mode. With the app, you can adjust the flash settings and in the energy-saving flash mode, the battery lasts for 10 hours. The helmet will warn you with beeps when the battery is running low. With the app, you can also set so that you receive notifications via your phone when the helmet needs to be charged.

Charge the helmet and remote control
You can either charge the helmet and remote control separately, or charge them together. When charging them together, attach the remote control to the remote control holder inside the helmet and connect the charging cable to the helmet. To the left of the display, you can see in percentage how much the helmet is charged. When the numbers show 100, the helmet is fully charged. The remote control lights up red when charging and green when it is fully charged.

Before first use
Always charge the helmet before using it for the first time. Upon delivery, the automatic brake light is switched off. You can turn the feature on or off manually or in the app. In the app, you can also set the sensitivity. Remember that the helmet uses more battery when the brake light is activated.

It all started in Boston
It was in Boston that the founders Eu-wen and Jeff fell in love with cycling and what a convenient way it is to get around. The only downside was that it felt like other road users, usually motorists, didn't see them. Especially late in the evening when it was dark outside.

In 2015, the first helmet Lumos Kickstarter was launched. They raised over $800,000 dollars on Kickstarter and the helmet won several awards. The founders ended up on the cover of Time Magazine and the helmet was listed as one of Oprah's favorite products in 2018. The helmet Lumos Matrix was launched in 2019.

Specifications
Fits head size: 56 cm to 61 cm in circumference
Size: Length 27 cm, Width 21 cm, Height 18 cm
Weight: 590 grams
Bluetooth: 4.0
Compatible with: Apple Watch, Apple Health, Strava
Markings: CPSC, EN1078, AS2063, F1447
MIPS

Lights
LED front: 22 white LEDs
Rear LED: 7 x 11 RGB programmable LEDs (77 pcs)
Up to 100

Battery
Chargeable battery: 3.7V 1800 mAh litium polymer
Battery life: 4-10 hours depending on settings
Charging time: 5 hours