You may also like:

€ 138

€ 5.80
Windfree Noise-dampening ear protectors
Smart ear protectors that filters out wind noise
You must log in to save favourites
Shuts out the noise from the wind
Hear traffic more clearly
Easy to wear

Windfree noise-dampening ear protectors filter out disruptive wind noise when cycling. You can hear the traffic and your fellow commuters more clearly and will therefore have a better understanding of what's happening around you. Also works wonderfully when you are paddling, sailing, boating or for a windy day at the golf course.

These ear protectors are made of foam with a cell-structure that removes the noise of the wind. For increased comfort these are also made with a layer of Outlast®, a material that is cold when it's warm and warm when it's cold. Outlast® was developed by NASA in order to level the temperature of astronauts in their work in space.

Windfree works just as well when combined with earbuds.




Show all reviews
Show less reviews
Other customers also bought:
You recently viewed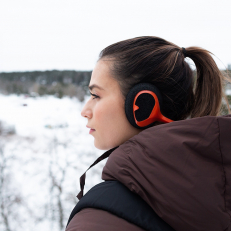 Smart ear protectors that filters out wind noise