Rapid and precise
No-touch and hygienic
Stores data in the app

Withings temporal thermometer is a user-friendly, no-touch and hygienic thermometer that gives you a precise temperature within just a few seconds. The thermometer is incredibly easy to use and even has its own app where you can store data for up to eight different users.

The thermometer has 16 infrared sensors that combine to take 4,000 measurements in under two seconds. This ensures high precision as well as fast results. The sensors work even when you hold the thermometer approximately 1 centimetre from the skin.

This no-touch function ensures that the thermometer needn't come into contact with any saliva, perspiration or earwax. Taking someone's temperature is therefore hygienic and you needn't wake your child to take their temperature.

How to use
Remove the small green protective cap and press the button. Measure from the middle of the forehead in a straight line out towards the temple. Contact is not necessary; the thermometer can be held approximately 1 centimetre from the skin. The thermometer vibrates when it has finished measuring, which takes about two seconds. The temperature is shown on the display and colour-coded LED indicators quickly show if you or your child have a temperature.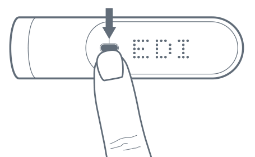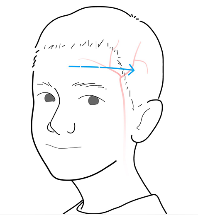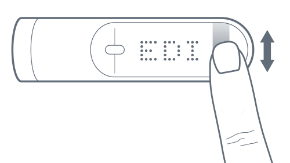 If you want to save the measured temperature, swipe either up or down on the touch surface to the right of the display. When you have found the correct user, press the button to confirm and store the data. The thermometer can store about 30 measured temperatures and uses Wi-Fi to synchronise with the app once turned off. You can also use the display to check the last five temperatures taken (within the past 72 hours) for a single user. Clever App The Thermo App can store information for up to eight different users.

Smart app
In the app, you can see all previous measured temperatures, set reminders, and add comments and notes about related symptoms and medications. This makes it easy to see if the treatment is effective over time and provides a complete history for you to show your doctor.

Based on age, history and symptoms, the Thermo App can also provide advanced health advice based on information from Boston Children's Hospital. Note! This advice should only be considered as an information bank and does not replace any personal advice or treatment from a certified doctor or other medical staff.

The Thermo App is free and can be downloaded via App Store or Google Play.
The app and installation guide are in English.

Keep in Mind
Make sure the skin is dry before taking someone's temperature, as a sweaty forehead may affect the result. The thermometer remain at the same temperature for at least ten minutes before use. Wait about ten minutes before taking your temperature after waking up, and fifteen minutes after exercising.

Wait fifteen minutes before taking a child's temperature if it has been breastfeeding. Do not use the thermometer on premature babies.

Technical Specifications
Length 11.5 cm
Diameter: approx. 3 cm
Weight: 75 grams
Temperature range: 35°C to 43.2°C
Precision: ± 0.2°C 2 AAA batteries (included)
Battery life: Up to two years
Unit: Choose between Celsius and Fahrenheit
FDA certified

Can be used in temperatures from 10°C to 40°C, humidity 15% to 95%
Can be stored in -25°C to + 55°C, humidity 15% to 95%

System requirements
iOS 8 or later
iPhone 4S or later
iPod Touch 5th generation or later
iPad 3rd generation or later
Android 6.0 or later

The app requires an internet connection, mobile data or Wi-Fi. The thermometer requires Wi-Fi in order to synchronise the data.